Dog Carrier Dog Bag as Backpack for Dogs / Pet Carrier 3-30kg
DogCarrier ©
Dog bag as backpack for dogs / Pet Carrier TEST WINNER
The DogCarrier © here also for rent or used and delivered by express to the holiday resort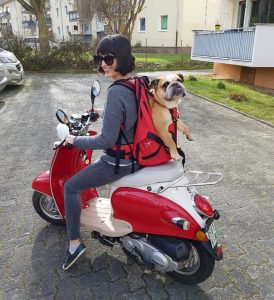 The DogCarrier © Backpack for dogs as test winner
https://www.vergleich.org/hunderucksack/
During the ordering process, you can log in and pay with your Amazon account, or you can pay with PayPal (also PayPalPlus), or you can transfer to our bank account!
For more INFO'S click on "Find out more"
SIZE TABLE dog carrier bag

Learn More
MINI (from 3-6kg, back length up to 35cm (measured from tail root to neck))
SMALL (from 5-10kg, back length up to 42cm (measured from tail root to neck)
BIG (from 7-16kg, back length up to 53cm (measured from tail root to neck))
XXL (from 15-30kg, back length up to about 70cm (measured from tail root to neck))
IMPORTANT: The dog backpack of sizes MINI, SMALL and BIG can also be carried at the front!
Regarding the sizes, the following should always be observed:
For BIG Dog Carrier dog backpack for dogs up to 16kg weight:
In principle, weight itself is not a problem. Dogs weighing 24kg also fit into the BIG Dog Carrier when they have penetrated (for example, Bulldogs).
Our recommendation: Dogs weighing 18-20kg should be carried in the XXL dog backpack in any case. Even if the BIG were basically sufficient. After all, one's own comfort is the decisive criterion.
The weight indication is more of a guide. Therefore, slim dogs with the same body weight as squat dogs have a different back length (back length is measured from the tail root to the beginning of the neck). In a very slim dog, such as a greyhound with, for example, 16kg, it may no longer fit into the BIG DogCarrier.
As a problem for this, we have created our SLIM-Dog Carrier, which from about Mid-end to the market at the end of April 2019.
Small Dog Carrier up to 10 kg weight:
Similar to the BIG-Dog Carrier dog backpack, this is less about the weight, although 10kg of weight should be the limit on this backpack.
This is due to your own comfort alone. The comfort is more comfortable with the BIG Dog Carrier dog backpack from about 9kg.
A maximum rite length (measured from tail approach to neck approach) of 42 cm should not be exceeded in the Small Dog Carrier!
The XXL DogCarrier backpack for dogs of 15kg – 30kg weight:
In the highest weight class of our backpack selection there are also weights that can be worn over medium distances.
From our personal experience, we would say that everything from 20 kg or 20 kg only fulfills short-term purposes, such as stairs, climbs, medically indexed bridge or, for example, lifting into the hunting stand!
Customers album Dog Carrier

Learn More
From time to time, customers send us photos of their dog in our dog backpack. A selection of these photos, which have been approved for publication by these customers, are summarized in a special customer album.
You'll see different breeds of dogs, from the little painting day to the Australian Richback, all in the Dog Carrier backpack for dogs.
After receiving the photos, we were able to give tips to some customers. Most of the time, the advice meant that the settings of the backpack could be made even more optimally. This also increased the comfort of the comfort for the respective dog …
Check out more than 150 different dogs in our Dog Carrier backpack for dogs here:
Usage dog bag/dog backpack

Learn More
Whether for shopping, shopping, hiking, cycling, mountain biking, supportive running or killing the dog over critical routes such as climbing paths, stairs, rocky ascents or descents, on the hunting stand, up or down for the dog not accessible to the dog Places/levels, or taking them in the METRO (in the US, in LA or NY, dogs may be taken exclusively in bags or backpacks), S-Bahn, or or or, the Dog Carrier is the right one because professional choice for such purposes.
Consider rescue dogs, which find it impossible to get over passages without getting there with the help of a carrier.
Also older dogs that no longer – up the stairs or come down. Not infrequently there are still various old buildings or residential buildings, where there is no lift. The disabled dog must then be carried up by its owner. Without a backpack a much more laborious affair …
A rider indicated when buying the XXL backpack that her decision to buy this specimen had been made because her dog was injured on a horseback ride, and the dog was so heavy that she had not been able to transport it. That's why she had to leave her dog alone to get help and a suitable mode of transport …
For hunters, this backpack can be interesting (we already have various hunters as customers …), as they can take their dog to the hunter stand.
So there are certainly many other uses that we leave to our future customers, but we are also happy to inform us about why they need the backpack …
Care instructions for our dog carrier
[expand title="Learn More"
Qualitiy and details of our dog backpack as dog carrier bag

Learn Moreweniger
2 years of intensive collaboration with backpack designers and developers, as well as a veterinarian and other consultants are the result of this well thought-out product! The dog backpack for carrying dogs.
For us, the safety of the dog is paramount, as is the quality of our product.
The back parts of our dog carriers / pet carriers are from a well-known, German quality brand manufacturer for backpacks of all kinds.
The front part of the dog carrier bag comes from the same factory, but the development comes from us.
Here you can see -following this text- detailed photos of typical features of our dog carrier, regardless of the size.
All backpacks have the high-quality SBS – AUTO – LOCK – zippers on the sides, so that the backpack can stay open up to about half in very warm weather, without the zippers being able to open further on their own!
The other photos show the interior of the respective outside pockets for provisions etc., the padding as well as the respective hip pockets for mobile phones etc.
For the height adjustment of the chest tableware in the area of the inner backpack back part, we will make changes for the SMALL and BIG Dog Carrier series from May 2019.
With our XXL dog carrier bag for carrying dogs up to 30kg weight, this is already part of the equipment!
The change in this regard concerns the lashes themselves, and the carabiners, which must be threaded there.
The bags in our backpack are now arranged in such a way that inserting the future rotary carabiner will be as easy as possible.
Here are detailed photos of our backpack for the dog: