Here you can see ratings of customers for the Dog Carrier dog bag as a backpack for dogs or dog backpack
We had a seller's account with Amazon. Seller's name was "DogCarrier," and we sold our dog socket bags there to carry dogs up to 30kg in weight.
On 18.01.2019, this site was hacked in Amazon!
There were 35000 (!) Offers inserted into our inventory and offered for sale. The offers were naturally tempting because incredibly cheap.
We had – probably reported this in time for quite a time after this hacking attack – on Amazon, and Amazon was then active with unexplainable time lag and deleted the fact offers.
Likewise, our offers, in number 16, and this each on 5 European marketplaces. Anyone who sells on Amazon knows how (time) creating only one offer there is
I had then completed and cleaned up my buyer account information again after Amazon deleted not only all offers but also personal information from our company.
We continued to be unsupported by Amazon. There were over 550 orders, of which about 490 were orders, timed after (!) I had reported the hacker attack. By phone, nothing could be solved at Amazon;
In my opinion, customer service is absolutely incompetent. On the one hand, finding a hotline number, on the other hand finding a corresponding contact information by e-mail is a challenge in itself … but that the telephone customer service could not provide such information is quite surprising, even more so Negligent of Amazon.
A negative review of a customer that Amazon itself (!), as well as in addition, we had informed about the scam, was the decisive factor for us to no longer cooperate with Amazon. In fact, Amazon did not delete this review on the grounds that the customer did not receive his goods …
I must promise that I am absolutely certain that our access to the Amazon account cannot have been done by any fishing!
We generally don't open emails, even if they're obviously from Amazon, outside the Amazon account.
As a matter of principle, we do not read messages from Amazon until we have logged into the account. In addition, the two-step verification had been set up as access, which means that, in addition to our password, we still receive a text message from Amazon with an access code.
Only after entering this additional access code, similar to a TAN number, do you get into the Amazon account.
To shorten history to the essentials;
While Amazon had informed all those affected that their order had been cancelled. BUT, Amazon did not give any real reason for it.
The customer was only lapidly informed that the order had been cancelled.
Now it was that quite a few of these "customers" wrote or called us what the reason for the cancellation was. In part, those scammed us as scammers, even on the delivery of the goods initially some wanted to insist.
Sure, the latter didn't have to happen), BUT, we had loads of trouble.
Other customers again contacted us at all, and let their anger air with it by writing us a negative review.
We were able to have all negative evaluations (except for one, vo-mentioned) repelled or cancelled. But this only under massive pressure on the evaluators and on Amazon itself; So either the evaluators, or Amazon deleted their negative reviews.
And my request to Amazon about whether they can restore my old inventory was negative. The answer was that you wouldn't save something like that … The arrogance and ignorance of the powerful.
As a salesperson, in my view, you are not a customer here, but only a supplicant and a necessary evil. It is only commissions to be earned, but otherwise minimalist and misleading service.
This should not be directed against customers; But it is the case that Amazon clearly neglects the sellers in their terms and their legal status.
As a result, we have decided, as a result of this overall experience, to no longer offer any products on Amazon as of 01.03.2019.
For Hundercksack-AMAZON-Customers:
You log into Amazon Pay with your Amazon account and order with just a few clicks!
You can still see the (unadorned) reviews for our dog bags as a backpack for dogs or dog sleeping bags!
1-8 of 14 reviews are shown
July 5th, 2018
The backpack is unique!
Processing stable. My dog weighs about 12kg.
We ride scooters in the city.
I see in the rearview mirror, and next to me as the motorists photograph me.
I am constantly asked where I bought the backpack! I think advertising could already get commission
The fact is that it's practical. I can go in wherever backpack is allowed, among others. Grocery store.
On the moped is great.
Only minus, perhaps, only with my dog, that the glands sometimes empty when driving. And that's the right strict. I'm not going to pull the tail through the hole anymore. And put a cooling mat in it.
I read in a review that the straps go up easily … it's true, but not when wearing them. And that ease also makes when I corch the dog.
I would have one more improvement proposal: Instead of the strap with buckle around the belly of dog, it would rather sew the strap outside in the middle of the backpack, and pull left and right forward, and possibly add to the abdomen with Velcro. That would give me a better hold personally if the dog moves after all. He's not a plush toy …
7 people found this information helpful
October 1st, 2018
I was glad that I had the dog backpack on the cupruge stones in Bad Schandau and a second one for the other dog lady as well.
We would never have been able to do that without it. Don't understand some people dragging their dogs up there without any fuse … Steep iron staircases I just say
100 punke for this backpack.
He has also slowed my Jack Russel to change the attitude after some attempts, the air.
Maybe we just need more practice
One person found this information helpful
November 19th, 2018
We chose this backpack because it meets all the requirements. It is built very stable. Convenient for the dog.
Easy to put on and wear well. We have him for the holiday in case our older dog can no longer walk all the tours with us. We are glad to have found such a good carrying aid.
One person found this information helpful
January 15th, 2019
Our dog likes to walk and ciconly far. But if the hiking tour is a bit too much of a good thing, the backpack offers perfect help. It may look a bit weird, but our dog is very comfortable in it.
One person found this information helpful
September 30th, 2016
That's what I got for my sister.
It lacked it well, for sick dogs that are no longer so good on foot.
Would I recommend everyone
7 people found this information helpful
August 13th, 2018
Super! We are thrilled. It is the only backpack you can find where our dog (14kg) fits. Awesome for long hikes where the dog can no longer.
One person found this information helpful
June 29th, 2018
Very great. My dog stands like one when he sees the backpack.
Very convenient, even longer time. Have a dwarf schnauzer with long legs, weighs 10.5 kilos
But it is not overweight.
One person found this information helpful
January 6th, 2019
The backpack is super practical and adjustable so that you can get every dog safely accommodated! (For size, the rim was more important to us than the weight). And I'm very happy that I can finally drive Vespa again !
Have fun and nice things to do with your dog and the Dog Carrier backpack for dogs wishes them
The Dogcarrier team with founder Roman Maier
[/expand]
Reviews of our backpack for dogs from Amazon customers
[expand title="Learn More" Reviews Dog Weas Dog Carrier Stand 25.01.2019

Top reviews
The original excerpts are attached to the PDF file that is misprinted here!
Reviews Amazon Customers for Dog carrier Dog Reckbag Backpack for Dogs Dog Bag Dog Weaker Pet Carrier Dog Carrier Carrier
[/expand]
Questions and answers from Amazon-Customers regarding Hunderucksack Dog Carrier
[expand title="Learn More" swaptitle="weniger"]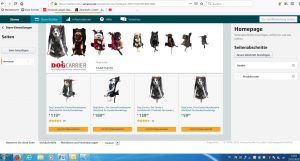 [/expand]