Categories




Rain cover for your dog backpack
Here you can get the absolutely high-quality and waterproof rain protection for our Dog Carrier dog backpack!
The rain cover for the dog backpack was handmade in consideration of quality and in use with environmentally friendly, natural materials!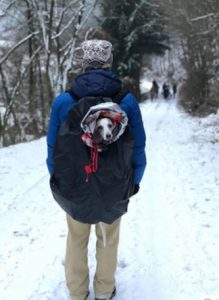 The rain cover for your dog backpack is washable up to 40 degrees Celsius in the washing machine!
Please DO NOT put it in the dryer, unless you have a dryer with the so-called " sport program " !
If you are in a hurry, please inform yourself if we have the rain cover in stock (Tel.: 00491638320222 or by email to info@dogcarrier.de)!
Otherwise the delivery time takes about 14 days from your order!
This is due to the aforementioned small production and manual, elaborate work by our small, German sewing shop. Of course, we could have had it made in China, but this is generally contradicted by our company philosophy, as far as it is feasible!
With the rain protection really everything important was thought of!
So also at the fact that the rain cape remains even with motorcycle trips firmly at the backpack, our Dog carrier, and your dog thus remains dry and warm!
During the ordering process you can log in and pay with your Amazon account, or you can transfer money by bank transfer or of course pay with PayPalPlus
---
Showing all 5 results